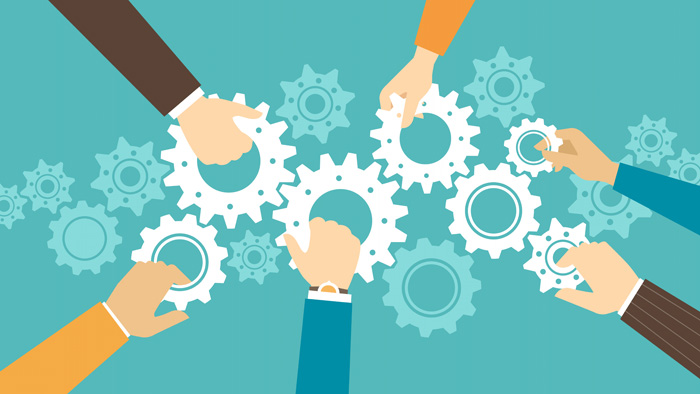 GovernWell™ was developed by The Walker Company Healthcare Consulting. Larry Walker, creator and developer of governWell™ used his 25 years of unique, customized work with boards of trustees of hospitals, health systems, hospital associations and other health care organizations to build eleven modules that meet the greatest needs of today's hospital and health system boards.
Much of the work The Walker Company does for our individual clients involves a customized version of the content included in governWell™. This product allows hospitals across the country to have a "consultant in a box," with quick-start tools and resources that ensure optimal success in hospital governance practices, performance and leadership development.
After 25 years in a broad range of health care consulting engagements, Larry is now focusing his resources on helping boards become smarter and more expert in carrying out their vital governance responsibilites.
For more information about The Walker Company, go to www.walkercompany.com.
OUR MISSION
To improve the quality, safety, efficiency and effectiveness of hospitals and health systems through smarter governance.
STRATEGIC PARTNERS
INTEGRATED HEALTHCARE STRATEGIES 
For more than 40 years, Integrated Healthcare Strategies (IHS) consultants, a division of Gallagher Benefit Services, have worked closely with clients to develop programs and solutions that help healthcare organizations achieve their business goals, providing solutions to enhance the effectiveness of boards, executives, physicians, and employees and that ultimately help ensure strategic success moving forward. Today, thanks to our partnership with Arthur J. Gallagher & Co., the new Gallagher Integrated offers more resources, more talent, and more experience that can be leveraged to help organizations break down barriers and grow in today's dynamic healthcare environment. IHS provides customized solutions to fit the unique needs of clients that run the spectrum of healthcare organizations, including community hospitals, academic medical centers, health networks and nursing homes. For more information, go to www.integratedhealthcarestrategies.com or contact Jim Rice, 612-703-4687, This email address is being protected from spambots. You need JavaScript enabled to view it..
BOARDEFFECT
BoardEffect's board portal software supports best practices within and across each cycle of board activity. BoardEffect drives efficiency, effectiveness and engagement among board directors, executives and administrators. More than 1,400 leading organizations and over 100,000 users rely on BoardEffect to manage board-related information online and advance the work of their boards. Hospitals and healthcare systems, nonprofits, foundations, educational institutions, government entities, companies and many others leverage BoardEffect to support the dynamic, nuanced, critically important work of governing bodies. For more information on ways BoardEffect can empower your board's effectiveness, go to www.boardeffect.com or contact Dottie Schindlinger, Governance Technology Evangelist, 267-385-8462, This email address is being protected from spambots. You need JavaScript enabled to view it..
CINDY FINERAN
Cindy Fineran has 25 years of experience in the healthcare field. In addition to over eight years of consulting with health care organizations, Cindy also draws on prior experience as a director of regulatory affairs and vice-president of sales in health insurance when developing healthcare reform-based resources, and assisting clients in assessing governance practices, bylaws, charters, policies and more. Cindy is skilled at breaking down complex issues into logical, easy-to-follow summaries of key points, and posing thoughtful questions for strategic consideration. She has extensive experience planning and facilitating leadership retreats, planning and conducting surveys, focus groups and one-on-one interviews with board members and senior leaders, developing case examples for the American Hospital Association and writing "white papers" and summary reports on a broad range of topics. Cindy has written articles for state hospital association newsletters and has co-authored several articles for Trustee Magazine. For more information, contact Cindy at 503-580-4719, This email address is being protected from spambots. You need JavaScript enabled to view it..
NICOLE MATSON
Nicole Matson has worked with hospitals, health systems and hospital associations for more than a decade. She has assisted with interviews, surveys and focus groups; strategic planning retreats; governance self-evaluations; development of association community benefit reports; and development of case examples on critical topics. Nicole has written dozens of articles for state hospital association newsletters and has co-authored several articles for Trustee Magazine. She earned a Master's Degree in health Policy and Management in 2003, and began consulting with The Walker Company in 2004. For more information, contact Nicole at 503-469-8663, This email address is being protected from spambots. You need JavaScript enabled to view it..