Board Assessments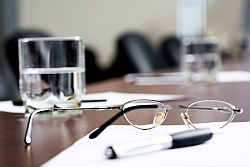 Some clients need direct, hands-on assistance with their governance development. governWell™ can work with you to accomplish the governance improvement outcomes most vital to your success. 
Governance Practices and Performance Assessments
In addition to the governWell™ toolkit, we offer a comprehensive and robust governance practices and performance assessment service.
Our governance assessment includes a proven tool guaranteed to identify governance risks and create governance gain. We offer three levels of governance assessment services:
AssessWell Essential™: Includes our basic governance assessment administered with no changes, recommended emails to send to the board, and a summary report that includes recommendations for board improvement based on survey responses. A one-time cost of $3,750.
AssessWell Custom™: Includes all features of AssessWell Essential™ and the ability for you to modify the survey criteria to make it unique to your organization's needs. A one-time cost of $4,750.
AssessWell Plus™: In addition to the selection of either AssessWell Essential™ or AssessWell Custom™, organizations may add a one-hour telephone consultation to further discuss the results, recommendations for improvement, and governance development opportunities. An additional cost of $750.
To download a sample governance practices and performance report, click here.