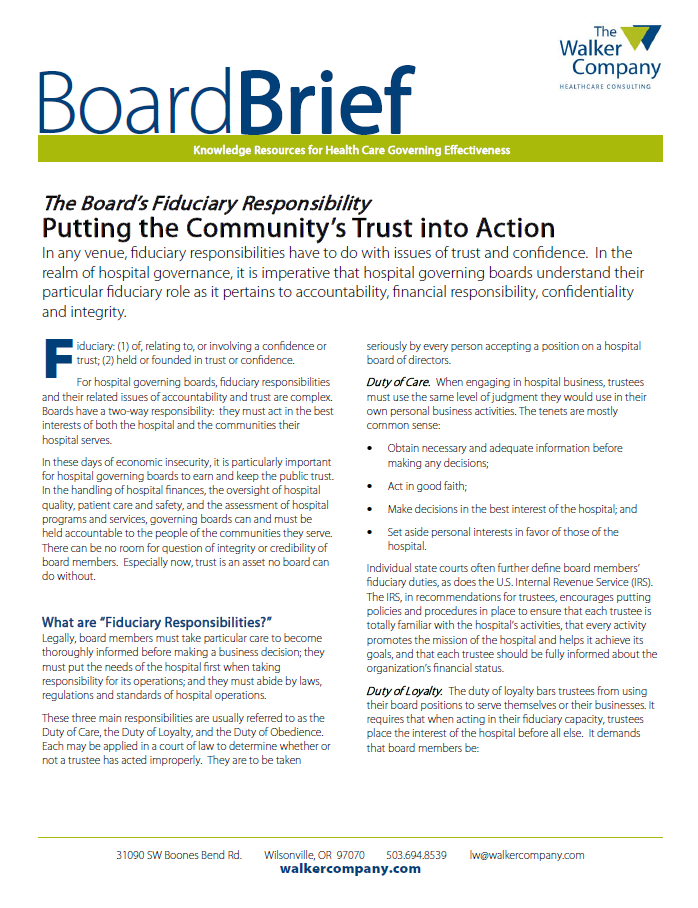 BoardBriefs explore the fundamental roles and responsibilities of hospital boards, as well as current "hot topics." They typically range in length from three to ten pages, and are designed to expand governance knowledge and improve the leadership effectiveness of hospital governing board members. BoardBriefs included in GovernWellTM include:
Boardroom Basics
Maximizing Board and Management Leadership Effectiveness: Understanding the Difference Between Governance and Management Responsibilities
The Board's Fiduciary Responsibility: Putting the Community's Trust Into Action
Building the Foundation for Success: Developing a Powerful and Purposeful Mission, Values and Vision
The Board's Role in Strategic Planning
Strategic Execution - The Plan Following the Plan
Financial Basics for Trustees
Ensuring Conflict-Free Governance
The Role of the Board Chair
Succession Planning Today for Tomorrow's Trustee Leaders
Supercharging Governance Substructure: How to Build Effective Committees, Task Forces and Advisory Councils
Governance Risk - What Trustees Need to Know
Speaking Up for Your Hospital: Advocacy Basics for Trustees
New Trustee Orientation - The Foundation for Success
Building Constructive Hospital/Physician Relationships and Alignment
Current Trends and Issues
Governance Strategies for Building Trust Through Transparency
Price Transparency: The Board Sets the Tone
Hospital Billing and Collections - The Scrutiny Isn't Going Away
Strategic Affiliation - Is There a Partner in Your Future?
What's Right About America's Health Care
Communication Connection: Maximizing Relationships in a Technology-Centered World
Governing in a Wired World
Protecting Your Hospital's Confidential Patient Health Information: What Trustees Need to Know About Cybersecurity
The Changing Competitive Landscape: Changes, Challenges and Opportunities Ahead
Eliminating Health Care Disparities: Ensuring the Best Care for All
Preparing for the Worst, Leading with the Best: The Board's Role in Disaster Readiness
Image in the Balance: The Governing Board's Role in Media Relations
Health Care Transformation
Becoming a Visionary Board in an Era of Transformation
Putting Your Mission to the Test: Managing the Health of a Population
Health Care Reform Payments Simplified: Breaking Down the Basics
Governance as Leadership: Reframing the Work of Nonprofit Boards
Quality and Patient Safety
The Board's Role in Quality and Patient Safety 1.0
The Board's Role in Quality and Patient Safety 2.0
The Board's Role in Quality and Patient Safety 3.0
Infusing Quality Throughout the Board's Agenda
Community Connections
Becoming a Community-Centered Board
Understanding Your Environment: Practical Processes for Understanding Community Needs and Environmental Trends
Communicating Value: Using Your Community Benefit Report to Maximize Understanding, Loyalty and Support
Board/CEO Relationships
Building Bonds: Pathways to Better Board/CEO Relationships
The Board's Role in CEO Compensation and Performance Evaluation
Continuity at the Top: Ensuring Stability in Leadership Succession
New CEO on Board
Health Care Workforce
Envisioning Tomorrow's Workplace
Adapting to Generational Differences in the Workplace
The Board's Role in Nurturing a Positive Workplace Culture
Governance Improvement
Ensuring Success in a Transforming Health Care Environment: Governance Practices and Performance Assessment
Preventing and Curing Governance Diseases: Practical Prescriptions for Improving Governance Health and Wellness
100 Ideas for Governance Improvement
Governance "Never Events": 10 Leadership Failures that Should Never Occur in Hospital Boardrooms
Becoming a Remarkable Board: Unleashing the Power and Potential of Purposeful Governance
Transforming Your Hospital and Board of Trustees from "Good" to "Great"
Exceptional Community Service - The Governance Connection
Critical Conversations: Leadership Discussions the Board Should Have Now
Meetings People Remember – For the Right Reasons
Maximize the Value of Your Board Retreat
Is Your Board Benefiting From the Next Generation of Leaders?